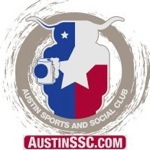 Austin Sports & Social Club
The Austin Sports and Social Club is Austin's larges Sports & Social organization with over 16,000 members. We offer 12 different sports, over 40 sports seasons annually, and 6 sports tournament per year. Players don't have to be athletes to play; we offer divisions for different skill levels. The Austin SSC creates year-round opportunities for individuals to play a variety of team sports in a social atmosphere that continues into happy hours and lasts long after the games are over. It's the perfect combination of sports and a social scene that caters to residents from South Austin to Round Rock. The Austin SSC is open to everyone 21 and up.
We also offer Outdoor Group Fitness boot camps, an annual 10 Adventure Race (Austin 10k Plus), and Urban Adventure Race (Downtown Dash) and a minimum of 10 social events annually. Social events range from boat parties on Lake Travis, University of Texas Tailgating to fundraising for local charities.

---
https://www.meetup.com/austinssc/