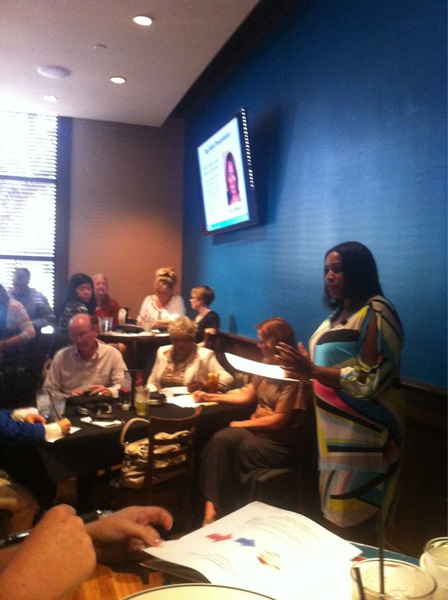 Austin Area Networking Speaking and Marketing Groups
If you have a business, product, service or message - this group may be just what you need.
Authors, Coaches, Speakers, Entrepreneurs listen up:
I'm also talking to those of you in R.E., Insurance, Financial, Health and Fitness, Medical and Direct selling:
Getting in front of groups, large and small, and effectively delivering
your message is the best way to achieve the goals that you have.

We are a Meetup group devoted to helping you meet and network with some of the most connected people in the area and beyond.
We want you to learn how to find new clients, grow your business, create new opportunities and increase revenue!

That is what the we are all about... the fun part of business. We believe everyone has a voice and should have the chance to change the lives through your amazing products/services. We meet monthly. We have groups meeting every month throughout the US and now into Canada and soon throughout the world! Can't wait to meet you soon!

---
https://www.meetup.com/AustinArea/
| | | | | |
| --- | --- | --- | --- | --- |
| | Name | Type | From Date | Location |
| | | | | |
| --- | --- | --- | --- | --- |
| | Name | Type | From Date | Location |
| | North Austin Mastermind Chapter | Meetup | 01-15-2018 | Blackfinn Ameripub - Austin |
| | Bling, Ching & a Business Thing Networking Group | Meetup | 12-28-2017 | Cafe Express |
| | Bling, Ching & a Business Thing Networking Group | Meetup | 12-21-2017 | Cafe Express |
| | North Austin Mastermind Chapter | Meetup | 12-18-2017 | Blackfinn Ameripub - Austin |
| | Bling, Ching & a Business Thing Networking Group | Meetup | 12-14-2017 | Cafe Express |
| | Bling, Ching & a Business Thing Networking Group | Meetup | 12-07-2017 | Cafe Express |
| | Bling, Ching & a Business Thing Networking Group | Meetup | 11-30-2017 | Cafe Express |
| | Bling, Ching & a Business Thing Networking Group | Meetup | 11-23-2017 | Cafe Express |
| | North Austin Mastermind Chapter | Meetup | 11-20-2017 | Blackfinn Ameripub - Austin |
| | Bling, Ching & a Business Thing Networking Group | Meetup | 11-16-2017 | Cafe Express |
| | Bling, Ching & a Business Thing Networking Group | Meetup | 11-09-2017 | Cafe Express |
| | Bling, Ching & a Business Thing Networking Group | Meetup | 11-02-2017 | Cafe Express |
| | Bling, Ching & a Business Thing Networking Group | Meetup | 10-26-2017 | Cafe Express |
| | Bling, Ching & a Business Thing Networking Group | Meetup | 10-19-2017 | Cafe Express |
| | North Austin Mastermind Chapter | Meetup | 10-16-2017 | Blackfinn Ameripub - Austin |
| | Bling, Ching & a Business Thing Networking Group | Meetup | 10-12-2017 | Cafe Express |
| | Bling, Ching & a Business Thing Networking Group | Meetup | 10-05-2017 | Cafe Express |
| | Bling, Ching & a Business Thing Networking Group | Meetup | 09-28-2017 | Cafe Express |
| | Bling, Ching & a Business Thing Networking Group | Meetup | 09-21-2017 | Cafe Express |
| | North Austin Mastermind Chapter | Meetup | 09-18-2017 | Blackfinn Ameripub - Austin |
| | Bling, Ching & a Business Thing Networking Group | Meetup | 09-14-2017 | Cafe Express |
| | Bling, Ching & a Business Thing Networking Group | Meetup | 09-07-2017 | Cafe Express |
| | Bling, Ching & a Business Thing Networking Group | Meetup | 08-31-2017 | Cafe Express |
| | Bling, Ching & a Business Thing Networking Group | Meetup | 08-24-2017 | Cafe Express |
| | North Austin Mastermind Chapter | Meetup | 08-21-2017 | Blackfinn Ameripub - Austin |
| | Bling, Ching & a Business Thing Networking Group | Meetup | 08-17-2017 | Cafe Express |
| | Bling, Ching & a Business Thing Networking Group | Meetup | 08-10-2017 | Cafe Express |
| | Bling, Ching & a Business Thing Networking Group | Meetup | 08-03-2017 | Cafe Express |
| | Bling, Ching & a Business Thing Networking Group | Meetup | 07-27-2017 | Cafe Express |
| | Bling, Ching & a Business Thing Networking Group | Meetup | 07-20-2017 | Cafe Express |
| | North Austin Mastermind Chapter | Meetup | 07-17-2017 | Blackfinn Ameripub - Austin |
| | Bling, Ching & a Business Thing Networking Group | Meetup | 07-13-2017 | Cafe Express |
| | Bling, Ching & a Business Thing Networking Group | Meetup | 07-06-2017 | Cafe Express |
| | Bling, Ching & a Business Thing Networking Group | Meetup | 06-29-2017 | Cafe Express |
| | Bling, Ching & a Business Thing Networking Group | Meetup | 06-22-2017 | Cafe Express |
| | North Austin Mastermind Chapter | Meetup | 06-19-2017 | Blackfinn Ameripub - Austin |
| | Bling, Ching & a Business Thing Networking Group | Meetup | 06-15-2017 | Cafe Express |
| | Bling, Ching & a Business Thing Networking Group | Meetup | 06-08-2017 | Cafe Express |
| | Bling, Ching & a Business Thing Networking Group | Meetup | 06-01-2017 | Cafe Express |
| | Bling, Ching & a Business Thing Networking Group | Meetup | 05-25-2017 | Cafe Express |
| | Bling, Ching & a Business Thing Networking Group | Meetup | 05-18-2017 | Cafe Express |
| | North Austin Mastermind Chapter | Meetup | 05-15-2017 | Blackfinn Ameripub - Austin |
| | Bling, Ching & a Business Thing Networking Group | Meetup | 05-11-2017 | Cafe Express |
| | Bling, Ching & a Business Thing Networking Group | Meetup | 05-04-2017 | Cafe Express |
| | Bling, Ching & a Business Thing Networking Group | Meetup | 04-27-2017 | Cafe Express |
| | Bling, Ching & a Business Thing Networking Group | Meetup | 04-20-2017 | Cafe Express |
| | North Austin Mastermind Chapter | Meetup | 04-17-2017 | Blackfinn Ameripub - Austin |
| | Bling, Ching & a Business Thing Networking Group | Meetup | 04-13-2017 | Cafe Express |
| | Bling, Ching & a Business Thing Networking Group | Meetup | 04-06-2017 | Cafe Express |
| | Bling, Ching & a Business Thing Networking Group | Meetup | 03-30-2017 | Cafe Express |
| | Bling, Ching & a Business Thing Networking Group | Meetup | 03-23-2017 | Cafe Express |
| | North Austin Mastermind Chapter | Meetup | 03-20-2017 | Blackfinn Ameripub - Austin |
| | Bling, Ching & a Business Thing Networking Group | Meetup | 03-16-2017 | Cafe Express |
| | Bling, Ching & a Business Thing Networking Group | Meetup | 03-09-2017 | Cafe Express |
| | Bling, Ching & a Business Thing Networking Group | Meetup | 03-02-2017 | Cafe Express |
| | North Austin Mastermind Chapter | Meetup | 02-20-2017 | Blackfinn Ameripub - Austin |
| | Bling, Ching & a Business Thing Networking Group | Meetup | 02-16-2017 | Cafe Express |
| | Bling, Ching & a Business Thing Networking Group | Meetup | 02-09-2017 | Cafe Express |
| | Bling, Ching & a Business Thing Networking Group | Meetup | 02-02-2017 | Cafe Express |
| | Bling, Ching & a Business Thing Networking Group | Meetup | 01-26-2017 | Cafe Express |
| | Bling, Ching & a Business Thing Networking Group | Meetup | 01-19-2017 | Cafe Express |